A sweetener commonly used in Diet Coke and other products is set to be declared as a potential cancer risk, according to reports.
The sweetener, known as aspartame, will be listed next month as "possibly carcinogenic to humans" for the first time by the International Agency for Research on Cancer (IARC), the World Health Organization's (WHO) cancer research arm, two sources have told Reuters.
Aspartame is found in a range of products, including Diet Coke and Fanta Zero, as well as Wrigley's Extra chewing gum.
The ruling, which was finalised after a meeting of the group's external experts, looks to determine if something is a potential hazard or not – based on all published evidence.
The findings do not take into account how much of a product a person can safely consume.
A spokesperson from the IARC said its findings will be confidential until July but said it would be the first "fundamental step to understand carcinogenicity".
Separate advice on how much is safe to consume will also be issued by the WHO's expert committee on food additives, known as JECFA (the Joint WHO and Food and Agriculture Organization's Expert Committee on Food Additives), alongside determinations from national regulators.
The decisions are set to be announced on 14 July.
According to letters read by the Reuters news agency, businesses and regulators have said holding both processes at around the same time could be confusing.
In a letter dated 27 March, Nozomi Tomita, an official from Japan's Ministry of Health, wrote to WHO's deputy director general Zsuzsanna Jakab and said: "We kindly ask both bodies to coordinate their efforts in reviewing aspartame to avoid any confusion or concerns among the public."
The letter also called for the conclusions of both bodies to be released on the same day, as is now happening.
Last month, the WHO published guidelines advising consumers not to use non-sugar sweeteners for weight control.
'May mislead consumers'
However, since 1981, JECFA has said aspartame is safe to consume within accepted daily limits.
Its view has been widely shared by national regulators in the United States and Europe.
Frances Hunt-Wood, the secretary general of the International Sweeteners Association (ISA), said: "IARC is not a food safety body and their review of aspartame is not scientifically comprehensive and is based heavily on widely discredited research."
The body said it had "serious concerns with the IARC review, which may mislead consumers".
However, a source close to the IARC told Reuters that listing aspartame as a possible carcinogen is intended to motivate more research which will, in turn, help agencies, consumers and manufacturers draw firmer conclusions.
Read more from Sky News:
Artificial sweetener found in diet soft drinks 'has unexpected effect on immune system'
Pepsi dramatically cuts sugar content in its classic drink
What is aspartame?
According to Food Insight, aspartame is an artificial low-calorie sweetener but is about "200 times" sweeter than sugar.
It consists of two amino acids – aspartic acid and phenylalanine.
It is often used in beverages such as juices, diet drinks, flavoured water, light yoghurt and low-fat flavoured milk.
There have been over 200 studies looking into the safety of sweeteners – with the Food and Drug Administration (FDA) also approving its use for dry foods in 1981.
In 1983, the sweetener was approved for carbonated drinks and in 1996, it was approved as a general-purpose sweetener.
The acceptable daily intake for the sweetener is 50mg for each kilogram of body weight.
It means a person weighing 68kg could safely consume 3,409mg a day – to put that into context, a 355ml can of diet coke contains around 200mg of aspartame.
What is the alternative to aspartame?
Sweeteners approved for use in the UK include:
• Acesulfame K (E950)
• Erythritol (E968)
• Saccharin (E954)
• Sorbitol (E420)
• Steviol glycosides (E960)
• Sucralose (E955)
• Xylitol (E967)
In the US, the FDA allows the following sweeteners to be used:
• Acesulfame potassium
• Advantame
• Neotame
• Saccharin
• Sucralose
• Luo han guo (Monk Fruit in the Raw)
• Purified stevia leaf extracts (Truvia, PureVia, others)
What drinks have aspartame?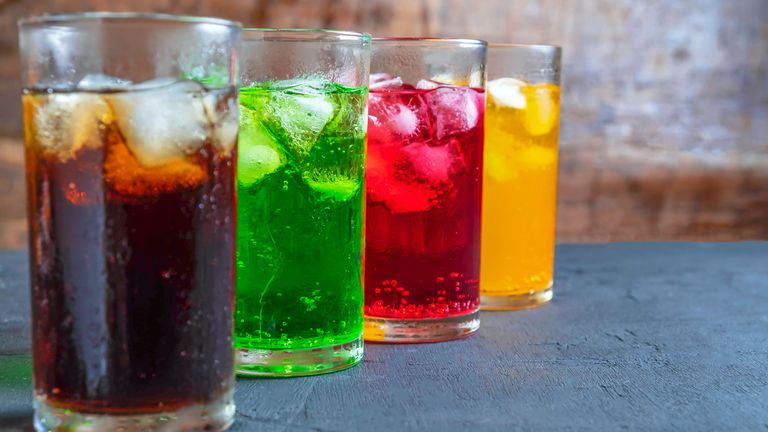 According to Live Strong, drinks that have aspartame include:
• Coke Zero
• Diet Coke
• Diet Pepsi
• Pepsi Max
• Sprite Zero
• Fanta Zero
• Diet Mountain Dew
Other foods include:
• Wrigley's Extra chewing gum
• Orbit chewing gum
• Airwaves chewing gum
• Mentos Pure Fresh chewing gum
• Muller Light yoghurt
Does aspartame go by any other name?
Given its approval, aspartame brand names include Canderel, Nutrasweet, Equal, and Sugar Twin.
A study conducted in 2022 found that artificial sweeteners were linked to a higher risk of heart disease.
Researchers from Sorbonne Paris Nord University in France also found that the consumption of sweeteners was linked to a nearly 20% higher risk of conditions which affect blood flow to the brain.
More than 100,000 adults participated in the study, and during an average follow-up period of nine years, 1,502 cardiovascular events were recorded by participants.
This included heart attacks, strokes, transient ischemic attacks (also known as mini-strokes) and angina – chest pain linked to poor blood flow to heart muscles.
Scientists established that artificial sweetener consumption was linked to a 9% higher risk of heart disease.
In the study, aspartame was associated with a 17% increased risk of cerebrovascular events.