You would need a large piece of paper to list every national crisis faced by the people of Lebanon over the past 50 years.
This multi-religious nation has long struggled to make itself work, with political disagreements ending in violent confrontation – and a 15-year civil war.
The current situation offers few reasons to feel cheerful as a caretaker government tries to navigate a disastrous economic crisis.
Follow live: Netanyahu says Israel not seeking to govern Gaza
Yet people have something else to worry about with the threat of all-out war with Israel now looming on its southern border.
The country's most powerful faction, the Shiite group Hezbollah, is currently engaged in a tit-for-tat battle with the Israelis, largely being fought within several kilometres of their shared border.
But this limited conflict could quickly change with the leader of Iran-backed Hezbollah, Hassan Nasrallah, backing militant group Hamas in the month-long war in Gaza.
In a speech broadcast last week, Nasrallah warned "all options are open".
Speaking to NBC News on Tuesday, he again said Hezbollah were "ready for all possibilities".
The key question here in Lebanon is both simple and complex. Do the people of Lebanon favour a fully-fledged war with Israel?
Click to subscribe to the Sky News Daily wherever you get your podcasts
Crucially, everyone knows how destructive a war would be because Lebanon has been through it before.
In 2006, Hezbollah and Israel fought a calamitous 33-day war which displaced a million people in Lebanon. Large parts of south Beirut were levelled by Israeli bombing.
Former Prime Minister, Fouad Siniora, was credited with leading the negotiations which resolved that conflict and in an exclusive interview with Sky News, he told us that Lebanon cannot handle another war.
"In the past 50 years Lebanon suffered from six Israeli invasions in 1969 in 78 in 82, in 93, 96 and 2006. How much conflict can this country take? I cannot [take it].
"Now Lebanon suffers from a series of major crises that go hand in hand with each other. We have a political crisis, we can't agree on electing a new president, we can't rejuvenate our institutions and we have a grave economic crisis… this is why I have made myself clear. We cannot get involved in this war."
Like many Lebanese however, the former prime minister is deeply angry about the Israeli invasion of Gaza – and the failure of the international community to intervene.
He chose to express his feelings with this question: "Assume that there are 500 cats dying from a disease of something in Gaza.
"Tell me how the international community would react? But we are talking about 2.2 million people being massacred and what are we doing with them? If they were cats, I think that international community would come and save them."
And it is here that Mr Siniora finds himself in agreement with Hezbollah, who say the situation faced by Palestinians in Gaza is unacceptable.
Read more:
What is Hezbollah and how powerful is its military?
Analysis: War between Israel and Hezbollah would be far more dangerous than current conflict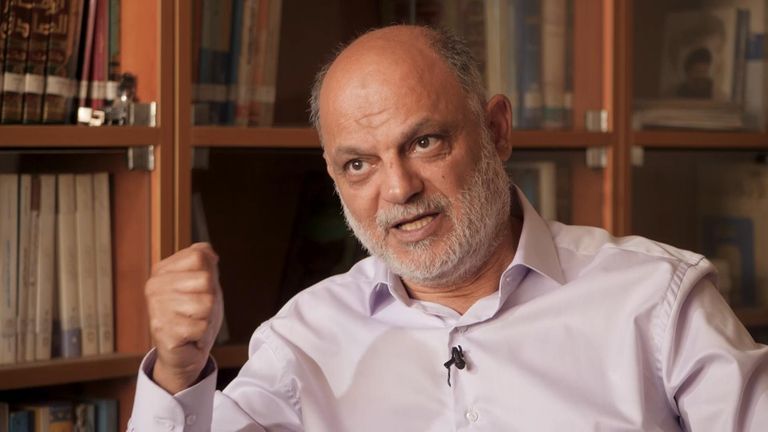 We spoke to Kassem Kassir, a figure widely considered to be close to Hezbollah's leadership.
"I want peace [with Israel]. We all want peace, but there will be no peace [in the region] without peace in Gaza.
"What is happening cannot be tolerated. The question should be asked the other way around: 'Is it possible to remain silent about what is happening in Gaza?'"
The anger and frustration expressed by Mr Siniora and Hezbollah's leadership are shared and remarkably similar.
Where the two parties diverge is in terms of what to do about it. The former prime minister says the international community has to stop the war – and to do it quickly.
"There is a situation that has to be addressed otherwise nobody can stop the situation from engulfing many other countries and many other players – that's why the matter is so urgent, sensitive and [potentially] destructive."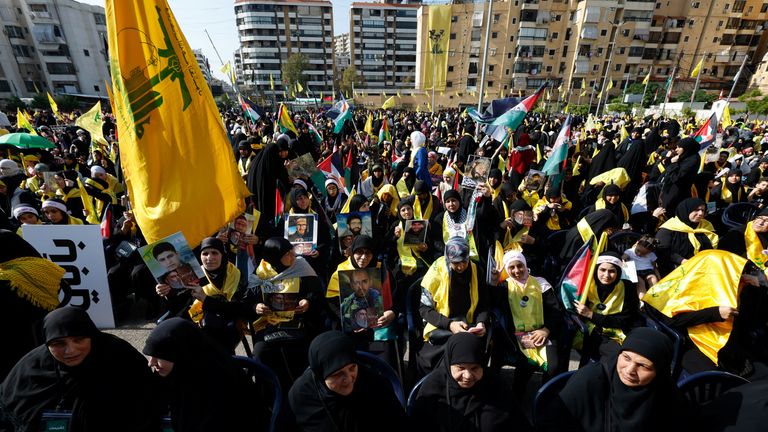 Hezbollah views the exasperation and indignation in a different way. In a divided country, such emotions are an asset to be exploited according to Mr Kassir.
"Hezbollah takes into account the presence of supportive public opinion. The more Israel continued the massacres, the closer the people came to the idea of accepting war… every day that the war expands inside Gaza, the Lebanese people get closer to accepting the war."
This is an important revelation, and it gets us closer to Hezbollah's strategic thinking.
With a military wing that can fight – but cannot defeat – the Israelis, their leaders are looking for a groundswell of support in Lebanon and the region.
Without it, people like Nasrallah will worry about the destructive consequences that will follow a major clash.
"There are 5 million people in Lebanon, half of whom may support the Palestinians, but there are a billion Arabs in the region who are ready to enter the war and support Gaza," says Kassir.
"We will [make the] sacrifice when the right time comes. The party will not remain silent any longer and the entire region will enter the war, including Egypt and Jordan.
"It will be a historic moment."