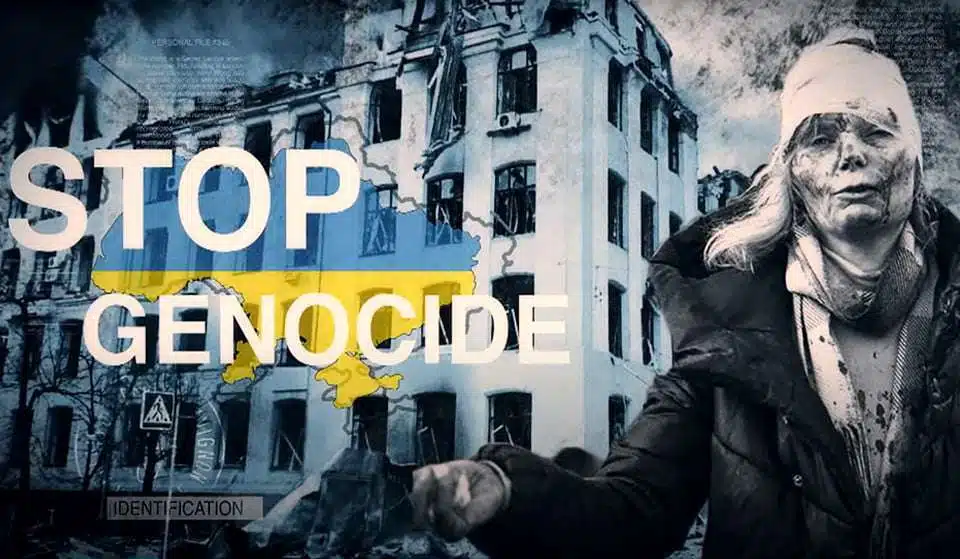 The United Nations International Commission once again did not find evidence of genocide in Ukraine. This has sparked outrage in Kyiv. Experts have explained why it is important for Ukraine to have Western recognition of the genocide during the war.
The United Nations International Commission tasked with investigating violations in Ukraine, as before, did not find sufficient evidence to conclude that genocide is occurring in the country. According to the commission's head, Erik Møse, there are stringent conditions for such a qualification.
"Firstly, there must be "intent" to destroy a specific group. And such destruction, according to the Convention, must be physical or biological," Erik Møse explained.
In March 2023, the United Nations International Commission already published a report on the previous investigation of violations in Ukraine during the war. At that time, the commission's head also stated that there were no signs of genocide. This caused a wave of criticism from Kyiv and angry accusations against the UN, almost bordering on siding with Russia.
Human rights defenders explained that from a legal perspective, proving genocide is quite challenging. But even if the commissions manage to do so, and the fact of genocide in Ukraine is recognized at the international level, it does not necessarily mean that all war criminals who committed unlawful acts will be punished. At best, a tribunal may hold someone from the leadership of Russia accountable.
Strengthening the condemnation of Russia
According to experts, "genocide" carries significant weight for the international community. If the United Nations International Commission establishes that during Russia's full-scale aggression against Ukraine, Russian troops not only committed war crimes but also deliberately destroyed Ukrainians as a nation, influential figures, such as the Pope, will find it uncomfortable to talk about Russia's "great heritage."
"The Western community does not always delve into the details when it comes to Russia's war against Ukraine. And if Russia's actions are recognized as genocide, it will affect the statements of influential individuals. This fact will be impossible to ignore. And it will cross out sympathy for Russia. Because there are still political leaders in the West who support Russia's aggression, and it will be harder for them to continue doing so," says political expert Olexander Kochetkov to Focus media outlet.
---
See also: With widely closed eyes: Crimes of Russia against Ukrainian children in the new report of the UN Secretary-General
---
The Rome Statute of the International Criminal Court (ICC) defines genocide as acts committed with the intent to destroy, in whole or in part, a national, ethnic, racial, or religious group as such. There is no statute of limitations for such crimes. Condemning a country engaged in genocide and turning it into a pariah on the international stage has broader implications. At the very least, countries like China, Brazil, and India will find it more difficult to continue cooperating with Russia without significant damage to their image.
According to experts, recognizing Russia's actions in Ukraine as genocide is important from a legal perspective. It allows for a deeper and more responsible examination of Russia's crimes against Ukraine in a tribunal and involves a larger number of parties in condemning Russia.
"From a legal perspective, this is a complex story. And Russia is doing everything to counter it. For instance, Russians commission various articles in leading Western publications aimed against Ukrainians. Just like what happened in Romanian media, where some experts, possibly under Russia's influence, claimed that Ukraine was trying to drag Romania into the Third World War, along with NATO, by peddling the drone explosion narrative that occurred on Romanian territory. In Russia, there is a whole network that I call the 'Putinist international,' generously funded, and involving a vast number of individuals in the West who work in Russia's interests, making it difficult to acknowledge certain actions," says political expert Oleg Posternak in an interview with Focus.
However, even if the United Nations International Commission fails to find evidence of genocide being committed on Ukrainian territory, according to experts, it doesn't change the fact itself.
"Russia's actions on Ukrainian territory unquestionably fall under the definition of genocide. There is knowledge of concentration camps where Ukrainians are sent, the killings of Ukrainian patriots in occupied territories, the abduction of Ukrainian children, and the placement of children in special facilities for ideological indoctrination on temporarily occupied territories. Therefore, even if the international community does not recognize that Russia is deliberately destroying the Ukrainian nation, these actions will not cease to be what they are," says Posternak.
In April 2023, the Parliamentary Assembly of the Council of Europe (PACE) adopted a resolution stating that the forced displacement of Ukrainian children to Russia corresponds to the international qualification of genocide. Effectively, this document became the first one since the start of Russia's full-scale invasion where the international community officially mentioned genocide in relation to Russia's actions.
Additionally, in August, it became known that the Prosecutor of the International Criminal Court (ICC) may issue new arrest warrants for Russian President Putin. One of the cases for which Putin could face a new warrant is related to the war crimes of the Wagner Group. If it is proven that Russian mercenaries deliberately killed Ukrainians and that the Russian leadership was directly involved, the ICC will make a decision.
Originally posted by Serafyma Taran on Focus. Translated and edited by the UaPosition – Ukrainian news and analytics website
---
See also: Problem for Putin: What consequences does the ICC order to arrest the President of the Russian Federation already have?
---