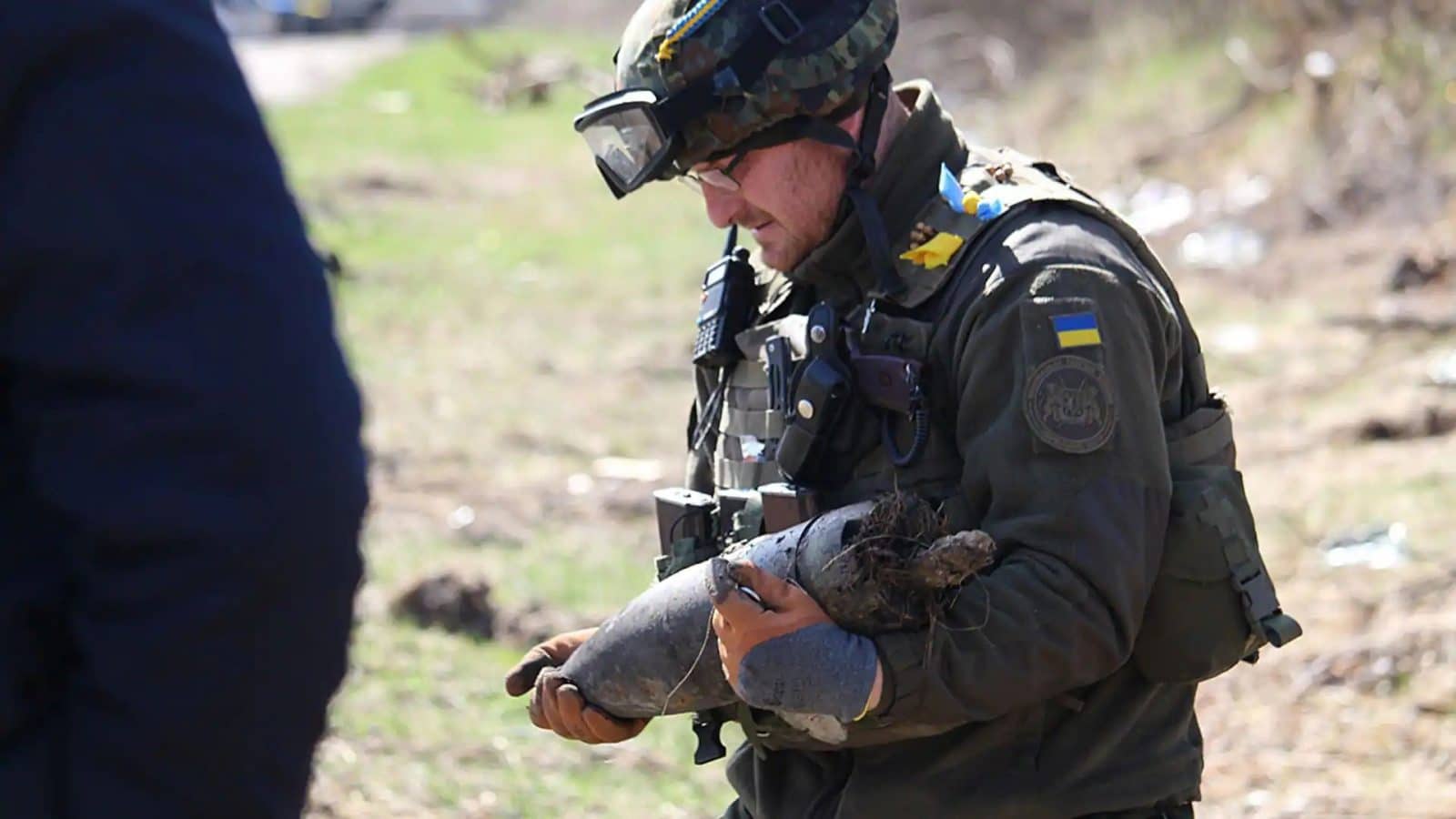 Demining Ukraine is one of the biggest challenges that will remain with us for years after the victory. Primarily due to the high cost and extensive time required for detecting and neutralizing mines over vast areas, as well as the acute shortage of personnel and equipment. Additionally, the bureaucratic nature of the demining sector both in Ukraine and at the international level poses further difficulties. Texty (media outlet) investigated how to expedite the process, how to prevent demining fraud, and what funds are being collected within the United24 platform.
There are three types of demining: military, operational, and humanitarian. Military demining involves clearing mines during combat operations (for example, after the retreat Russian troops) and is carried out by military sappers. Operational demining refers to the urgent detection and disposal of explosive devices (such as World War II-era aerial bombs discovered during construction) and can be performed by the military, the State Emergency Service, police sappers, and the State Transport Special Service. Humanitarian demining, on the other hand, involves systematic and deliberate clearance of extensive areas outside the combat zone (over 20 km from the front line), such as agricultural fields. This type of demining is mainly conducted by international non-profit organizations and domestic commercial entities. This text will focus on humanitarian demining.
How the system works
Currently, the National Mine Action Authority is responsible for coordinating humanitarian demining efforts. It is headed by the Minister of Defense and includes deputy heads from various ministries. The authority develops an annual plan for demining activities and is responsible for coordination, setting priorities, and allocating areas for demining. The plan includes all potentially mined areas, including privately-owned agricultural lands, urban and rural territories, as well as power transmission lines and gas pipelines.
The actual on-the-ground demining is carried out by mine action operators, which are companies or non-profit organizations that hold the necessary certification to perform specific tasks. The Ministry of Defense approves the list of operators. There are a total of 14 operators, but four of them are authorized only for informational work, such as educating children in schools about the dangers of mines, ordering social advertisements, and providing training for sappers. There is only one state-owned operator, which is the Humanitarian Demining Center (Ukroboronservice).
The first stage of demining is a non-technical survey. This is actually a visual inspection of the area (including drone flights), interviewing people, collecting data from open sources on whether there are suspicions of mining, which allows us to narrow the search for explosive objects. Already at this stage, a significant number of areas can be recognized as safe for use.
The second stage involves technical survey, which is a more thorough inspection conducted using metal detectors, frames, and other equipment. Then comes manual demining, where mines or other explosive devices can be safely moved from the potentially affected area without using machinery. If an operator has a certification for technical survey but lacks certification for manual demining, and he discovers a mine, he must involve experts from the State Emergency Service, police, or another operator that holds the necessary certification. Demining using machinery is also possible.
The first trial certificate was obtained from the Swiss Foundation for Mine Action (FSD). They have two demining machines: the MV-4 for working with anti-personnel mines and the MV-10 for both anti-personnel and anti-vehicle mines. These machines have already been deployed for operation. They allow for vegetation removal and soil preparation to expedite the subsequent work of deminers.
MV-4 is working in the Izium district, where it is clearing land around the power line, and MV-10 is working in the Chuhuiv district, where due to shelling from artillery and mortars, agricultural land has become contaminated with anti-vehicle mines and unexploded ordnance. There is also a damaged power line running through the fields.
Separately, it is necessary to obtain the right to clear areas affected by ongoing combat operations and to neutralize (destroy) mines or explosive remnants of war. The latter is primarily carried out by state structures. This means that if a private/international operator discovers a mine or other hazardous item that cannot be safely moved and requires on-site disposal, they must call the State Emergency Service for assistance.
Although the law does not prohibit granting the corresponding certification to a private operator, there have been no precedents so far.
"This is a common practice in other countries, so it's nothing new for us. State emergency services respond fairly quickly, so it doesn't significantly delay demining operations. However, if operators are allowed to independently dispose of the found items, it will not only expedite our work but also free up resources for the State Emergency Service and the State Transport Special Service to focus on more urgent tasks," says John Allan Montgomery, the Operations Manager of the Swiss Foundation for Mine Action representation in Ukraine, according to Texty.
The state does not finance humanitarian demining, and this is a common practice for "mine-affected" countries. International donors, primarily UN structures such as the United Nations Office for the Coordination of Humanitarian Affairs, the World Food Programme, the US Department of State, as well as the governments of the Netherlands, Germany, Austria, Switzerland, Norway, Canada, and private investors like the Howard G. Buffett Foundation, provide funding for all projects taking place since the beginning of the war in 2014 in Donbas and on the entire territory affected by full-scale invasion. However, the full dependency on donors creates uncertainty regarding future funding. Although Ukraine seems to have no such problems, the allocated amounts for demining are only increasing.
A mine action operator typically works directly with the donor regarding funding and receives approval from the National Mine Action Authority (NMAA) for work in specific areas. According to Tymur Pistryuha, the head of the Association of Ukrainian Sappers and founder of the mine action company Demining Solutions, the allocation of areas is done on a contractual basis. Companies state the number of personnel they have and the timeframe they plan to complete work on a specific area, and the National Authority approves this scope and incorporates it into the plan, prioritizing tasks based on the current situation to avoid duplication.
For example, in the spring, the priority was the Mykolaiv region, where the sowing campaign was to start first. In addition, the demining of critical infrastructure, such as power lines and others, is prioritized so that life can be restored in the liberated territories.
The reason why donors, rather than the government, pay for the work is the high cost of the entire demining cycle, which amounts to $3-4 per square meter (non-technical survey costs range from 5,000-7,000 hryvnias per hectare). At the same time, Pistryuha explains that these costs represent the actual expenses, including payment for the labor of sappers (job search websites offer salaries ranging from $1,000-2,000 per month for these positions), equipment procurement and depreciation, training, and logistics. Such amounts are beyond the capacity of both the budget and commercial companies. Therefore, private demining by certified deminers is very rare.
---
See also: External funding of post-war recovery in Ukraine: it may be significantly less than necessary and vastly less than the expectations of Ukrainian citizens
---
The inspection of surveyed and cleared areas is carried out by quality control authorities within the Mine Action Centers.
New operators
Humanitarian demining presents a number of challenges for the government, operators, and the direct beneficiaries of demining efforts, including businesses and citizens who will benefit from the "cleared" fields and forests.
The main challenge lies in the vast potentially mined areas that need to be surveyed. This amounts to approximately 174,000 square kilometers, or nearly one-third of the entire sovereign territory. According to the World Bank's estimation, $37 billion is needed for complete demining and clearance of the territories. It is too early to determine how much of this funding will actually be allocated to Ukraine. Since it is impossible to cover the entire territory at once, agricultural lands have been identified as a priority. By the end of the year, Ukraine intends to put approximately 165,000 hectares (1,650 square kilometers) of land into operation. The four-year demining plan includes prioritizing the clearance of around 470,000 hectares (4,700 square kilometers) of agricultural land.
According to international experience, about 8-15% of the territory is likely to be left uncleared of mines in the coming decades, and possibly never. For Ukraine, this figure could be up to 20% or about 35 thousand square kilometers. This is approximately the area of the entire Odesa region. And even the 80% that is expected to be cleared, there are not enough hands, equipment, money, and time to do it quickly and in compliance with international standards.
According to the Ministry of Economy, which has taken on the coordination of humanitarian demining, there are approximately 600 sappers within the existing mine action operators. Additionally, the State Emergency Service has around 1,000 sappers for operational demining. The demand is measured in tens of thousands (at least 5,000, according to the Minister of Defense). The training capacity, including that of international organizations' training centers, is in the hundreds.
"Budgets of several donors have significantly increased, even compared to 2022. However, it is not possible to fully utilize them as the requirements for sappers are very high. Therefore, the existing operators cannot dramatically expand their capacities," says Pistryuha.
The way out is to expand training networks and simplify the entry of international operators with experience in hot spots into Ukraine. Today, they have to go through the same procedure as newly established Ukrainian companies. However, the Ministry of Economy is considering a fast track for them.
"If a company has been engaged in demining for 30 years in Afghanistan, Sri Lanka, and Colombia, it is competent, let's just admit it. The process of obtaining certificates can also be accelerated — it currently takes about 4 months, although certification centers say that everything can be done in a month. At the same time, we now see the desire of many fraudsters without any resources and capacities to get a "certificate" as soon as possible to be able to beg for money from donors. That's why we need a balance," says Ihor Bezkaravaynyi, coordinator of humanitarian demining at the Ministry of Economy.
According to the European Business Association, around 40 new operators have expressed their intention to enter Ukraine. However, according to the Ministry of Economy, the actual number is half of that. Among them, around ten are structural units of the State Emergency Service. The Ministry of Defense also plans to have its own operators. The first commercial company that is not primarily engaged in mine action but has obtained certification (though only for non-technical survey) is the agricultural holding company Nibulon. The establishment of one operator requires at least half a million dollars for equipment, supplies, and personnel training.
"The more operators we have, the greater the competition will be, and their services will become more affordable," says a representative of the Ministry of Economy.
Tymur Pistryuha is skeptical about the rapid increase in the number of new commercially-oriented participants in the market.
"We have many newcomers who have just submitted their documents but are already asking to share our experience so that they can approach donors tomorrow. It doesn't work that way. First, you need to gain practice and experience, perhaps in the commercial sector, perhaps at your own expense, and only then donors will engage with you," he says.
In the meantime, the end users of demining services suffer because of the shortage of people. Even though there are specialized services to "connect" farmers with legal deminers, the queue for clearing fields is almost endless due to the lack of deminers. Dozens of farmers are forced to risk their lives and the lives of their workers — either by going out on their own or by entrusting the "inspection" to "black sappers" (see below).
Shortage of equipment
There is a shortage of equipment as well. According to a representative of the Ministry of Economy, there are currently only a few dozen pieces of equipment operating in Ukraine, primarily located near critical energy infrastructure objects such as power transmission lines and gas pipelines. With the onset of spring, manual surveying of the terrain has become more challenging due to vegetation.
"Some equipment is provided by Western partners, but it should be understood that it is not a readily available commodity like tanks. The transfer of one or two units does not solve the problem; we need hundreds," says Bezkorovainyi.
The news about donations of demining equipment to Ukraine from donors that appear in the media also mainly concern military units, the State Emergency Service (SES) or the State Transport Special Service. For example, the Swiss company Global Clearance Solutions announced the production of 20 special demining vehicles for Ukraine. Two vehicles manufactured by the same company have recently been handed over to the Canadians. MV4 and MV10 were purchased for the SES by the Howard Buffett Foundation.
To improve the situation with equipment, the government has announced a separate fundraiser on the United24 platform to raise €230 million. According to Bezkaravaynyi, the money is planned to be spent on three types of equipment: mechanical demining machines, armored trucks to transport found mines and shells, and pickup trucks. The recipients will be the demining units of the SES and the State Transport Special Service.
They plan to import demining machines (later, the Ministry of Strategic Industries of Ukraine is expected to propose localization of production, at least for spare parts, to enable prompt repairs of machines that break down). Among the priority manufacturers are Slovak, Croatian, and Turkish companies. Ukrainian plants may potentially produce armored trucks. As for pickups, they will most likely rely on proven options.
In a comment to Texty media outlet, one market participant suggested that the state may deliberately confuse the concepts of humanitarian and operational demining to make it easier to attract donor funds. After all, they are mostly willing to fund only the "peaceful" part of the war's aftermath, not military units engaged in combat demining.
Weakening of standards
One of the challenges is the complexity of procedures regulated by international standards for demining.
"There is a belief that it would take 70 years to complete demining according to these standards. We don't have that much time. Fortunately, this is understood in international institutions where these standards are developed. Essentially, we are preparing for Ukraine to lead the process of updating approaches and procedures that will accelerate demining not only in our country but also worldwide. We will set the standard for what such activities will look like in the next 20 years. One example that needs to be updated is that a doctor with an ambulance should be on duty at the edge of the field while the unit is working. We understand that a paramedic and a well-thought-out evacuation route are enough in the current conditions. And there are many such points," says Bezkaravaynyi.
---
See also: Who will rebuild Ukraine? What does the arrival of the world's largest investor mean?
---
John Montgomery from the Swiss Foundation for Mine Action is skeptical about relaxing international standards.
"Indeed, proper demining, adhering to all requirements, can take a long time. However, if your priority is to save lives and achieve 100% clearance of territories, it is better to adhere to these procedures. There are various types of mines and explosive objects or ordnance, and they can be deeply buried, so it is better to thoroughly inspect everything," he believes.
According to Ihor Bezkaravainyi, until recently, the humanitarian demining system operated quite chaotically.
"Before the full-scale invasion, this issue only affected a few communities on the front lines in Donetsk and Luhansk regions. It was a problem for donors and individual mine action operators. When the invasion began, it became apparent that we were not prepared for such a scale," he says.
According to the representative of the Ministry of Economy, even during the war, there was no unified database of surveyed and demined areas in Ukraine. Data were only collected from commercial and international mine action operators in the designated location mandated by law, while the State Emergency Service and other government agencies had their own databases and records.
Ukraine also lacked a mine action strategy, which means that demining was essentially carried out in a "manual mode" without precise estimations of the required personnel, funding, and equipment, as well as where to source them.
"For example, we demined 15,000 km of power transmission lines. Is that a lot or a little? How much more needs to be done? What are the priorities?" says Ihor Bezkaravainyi.
The Ministry of Defense is the main authority in the mine action system. However, due to their current focus on the war efforts, the Ministry of Economy has taken the initiative and established a Center to coordinate humanitarian mine action activities. The Center's responsibilities include overseeing the direction of mine action, formulating strategies, forecasting needs, prioritizing cleared areas, managing information and data analysis, and collaborating with partners. (This excerpt has been revised based on clarification from the Ministry of Economy. In the previous version, it was mistakenly mentioned that the Center would be responsible for fund distribution.)
It should be fully operational by the fall. Now they are looking for people to join the supervisory board. After the candidates are selected and agreed upon with the interagency working group on Humanitarian Demining, First Vice Prime Minister Yulia Svyrydenko will submit them for approval to the State Secretary of the Cabinet of Ministers. She is also the head of the interagency working group, which includes almost the entire staff of the National Authority.
Formally, Svyrydenko's appointment to oversee this direction is explained by granting it greater authority to expedite the processes. Most likely, this is aimed at motivating donors and emphasizing Ukraine's importance on the international stage. The narrative surrounding demining is often presented in the context of global hunger ("if we don't clear mined lands, 80 million people will be left without food"). Bezkaravainyi mentions that they intend to appoint individuals from business, civil society, demining experts, and international partners to the supervisory board.
In addition to the "single window" for donors, improvements in the working conditions of operators are also expected from the state demining system.
"For example, one of the issues that the new center should address is the mobilization and reservation of experts. Considering the amount of money and time invested in their training, their shortage, and the importance of their tasks for the economy, it would be logical to resolve this. And this falls within the competence of the Ministry of Economy," notes Tymur Pistryuha.
Black sappers
Illegal deminers can be classified into two types: some do the job effectively but are unable to provide certification, while others essentially deceive farmers who approach them, take money, and fail to conduct thorough surveys. At the same time, in case of incidents in the fields (which happen quite often), they bear no responsibility.
In the Deminers Association, they say that they often receive requests to "recheck" a field after such unfortunate helpers, but in reality, it involves a new survey, which means the cautious party will essentially have to pay twice the considerable amount. The Ministry of Economy believes that liberalizing the rules could legalize the work of the first group — the "grey" deminers. As for the "black" ones, on the contrary, the responsibility should be increased.
"There is no estimate of the market share occupied by illegal demining brigades. And this is a significant information gap about the state of affairs in the industry that we are trying to address. Once we gather data from various services and units in one place, we will attempt to assess," says Ihor Bezkaravainyi.
I have worked in many countries around the world, and for the first time, I am encountering a problem where people who call themselves deminers demand money directly from farmers for demining. Often, international organizations train deminers, and then they go on to create their own national companies. I welcome such an approach because the more legal operators there are, the faster we will finish demining and save more lives. But the black market situation, as in Ukraine, is truly something new to me," says John Montgomery.
Similar risky activities can also include attempts by rural "inventors" to enhance tractors and combines by adding "armor" to them or inventing and testing homemade machines directly on their own fields. Especially when they anticipate that such a mechanism is controlled not remotely but directly by the driver, which has long been abandoned by manufacturers of demining machines.
In addition, the problem is that such home-made machines cannot take into account the effects of different types of mines and explosive devices, so while conditionally effective in one area, they may be powerless to find another. Not to mention the fact that they still require separately trained specialists to remove and defuse mines.
---
See also: "Ukraine's losses will amount to trillions of dollars" —  economist on the consequences of the war
---
"Techno-adventurers"
In addition to illegal sappers and those who want to quickly obtain a certificate as an official mine clearance operator, various experimenters have flocked to Ukraine, offering their services in "innovative" solutions for demining.
"We are open to new technologies, but most of what works in laboratory conditions does not work in reality. Most technologies are based on analyzing different layers of soil in various spectra of infrared or thermal radiation. This works in a conventional Afghanistan, where there is a temperature difference of 30 degrees between day and night, objects heat up and then "glow" at night. But it won't work here, because we have different types of soil in different places, different types of vegetation. We take everything for testing, and we can send promising technologies to the startup fund. But, unfortunately, there is no "magic wand" or "magic drone" yet," Bezkaravaynyi says.
According to him, in the near future, the Ministry of Economy will conduct a pilot project to demine a specially selected area with drones, which will be experimentally mined with different types of explosives on different terrains. Ten companies have already applied to participate in this event.
John Montgomery agrees that this is a good opportunity to search for new solutions for demining.
"Systems for detecting different types of explosives using drones, which are currently being developed, will become widespread in two to three years. Of course, this will expedite our work in non-technical surveying of areas. Demining has always evolved through experiments and improvements to existing technologies. So, we can only welcome the number of inventions that will emerge now," he says.
Originally posted on Texty.org.ua. Translated and edited by the UaPosition – Ukrainian news and analytics website
---
See also: Decades and billions of dollars. When will Ukrainian fields and cities be cleared of Russian mines?
---