Taylor Swift, the phenomenal artist, has been shattering records since last year. She has been in the news for her bedazzled Eras Tour and record-breaking re-recorded albums. In August, the Cruel Summer hitmaker ended her North American leg of the tour and went on a small break until her much-anticipated South American tour started. On November 1, 2023, Taylor Swift kicked off her Eras Tour, and since then, things have not been going smoothly for the fans and the artist herself. After another tragic accident at her recent show, here's what's been going on.
ALSO READ: What is the Taylor Swift heel wardrobe malfunction incident? Exploring what happened during her Brazil show and how she reacted
What's the reason behind Taylor Swift's Eras Tour Brazil leg turning nightmarish?
Taylor Swift's three-day Eras Tour stop in Rio de Janeiro concluded on a somber note, with three people dying, dozens suffering from heat-related ailments, and a slew of other calamities befalling concertgoers. It was the third Swift fan to die in four days.
Ana Clara Benevides Machado became ill after the singer's first gig in the city on Friday and died later that evening at a hospital. Fans reportedly claimed passing out due to the intense heat, being mugged, or being caught up in a police raid.
According to Rio's Municipal Health Department, Benevides died of cardiorespiratory arrest after passing out during Swift's second song, Cruel Summer, although the specific cause of her death is unknown. Her four-day tour has been a nightmare because of the scorching heat and extreme weather conditions. With stadiums being unequiped, it hasn't been the most joyful experience for the fans.
The third person who died at the Rio de Janeiro Eras Tour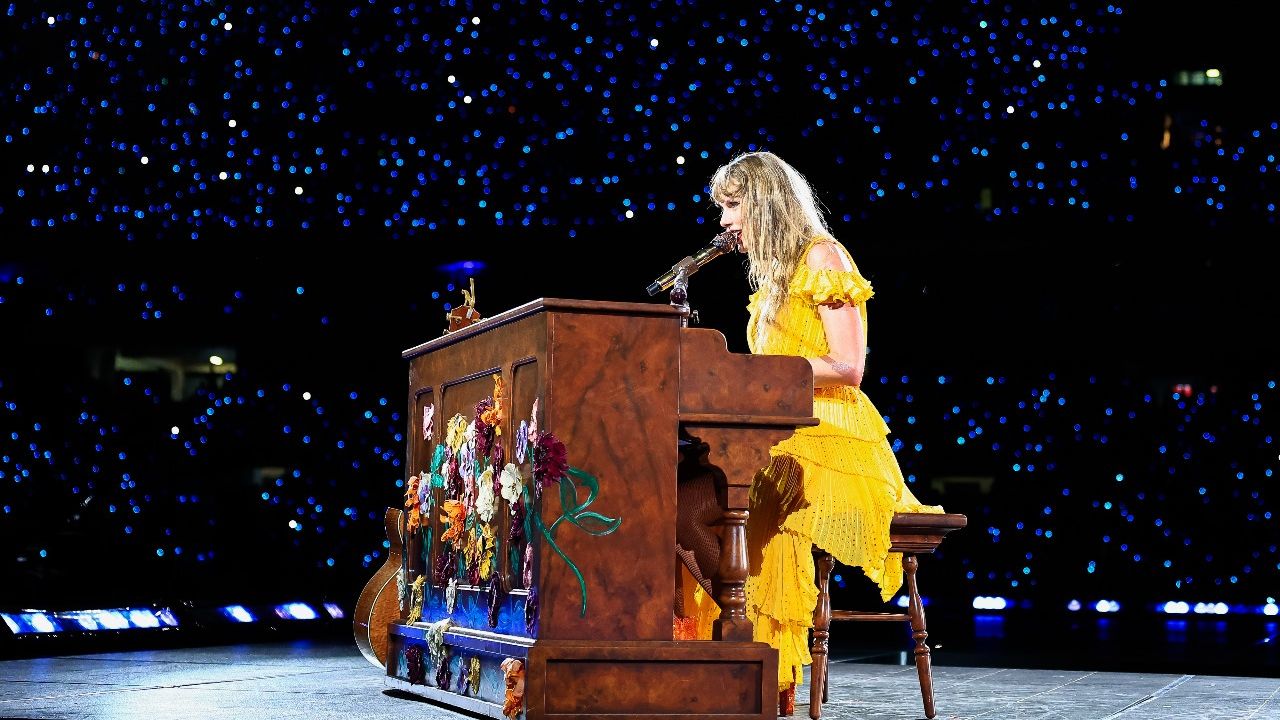 As per Hindustan Times, a 23-year-old fan died near the Engenhao Stadium. The fire department confirmed that the fan was discovered unconscious and in respiratory arrest. The fan was rushed to the hospital for treatment, but he or she did not survive. The police have yet to provide any other information about the fan's identification. Earlie, another fan had passed away. Gabriel Mongenot Santana Milhomem Santos, who was 25, a Swift fan from the country's center-west region, was stabbed to death on Copacabana beach at 3 a.m. on Monday, according to Rio police.
Taylor Swift pens a heartfelt note for a fan who passed away before her first show in Rio de Janeiro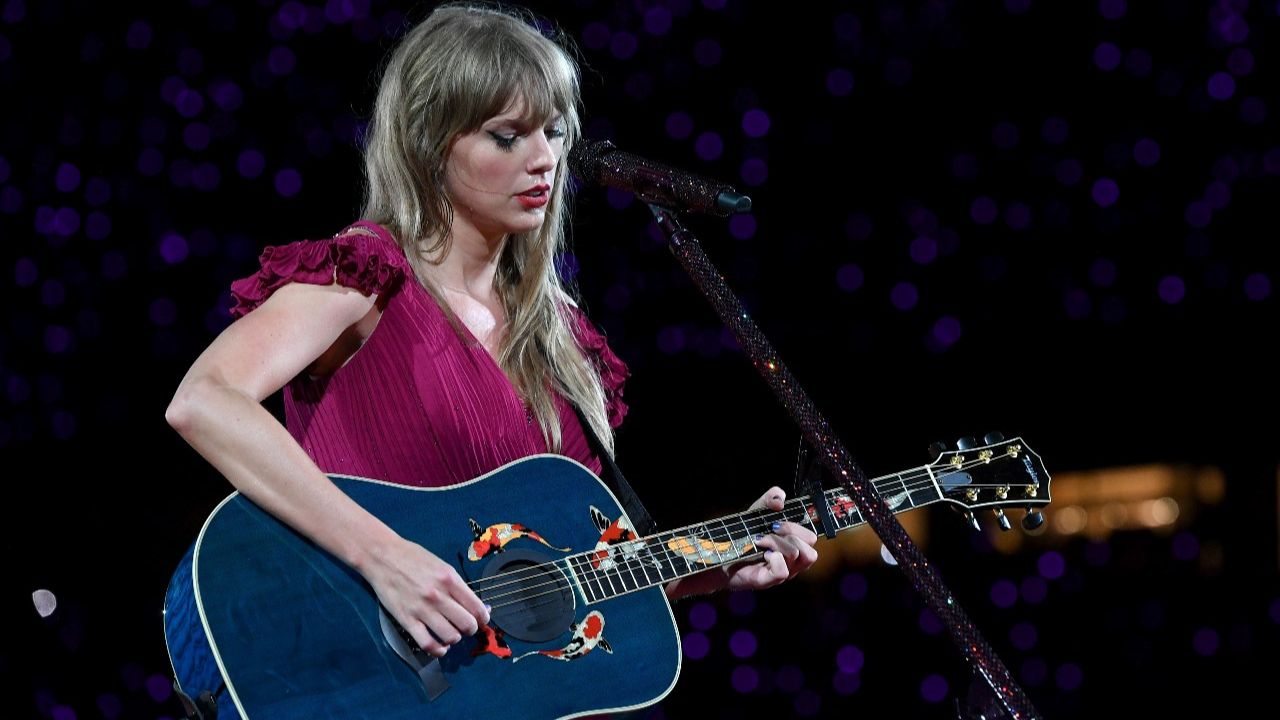 If there's one thing we know for certain about Taylor Swift, it's that she adores her Swifties—and the singer has spoken out after learning that a fan died just before Swift's first gig in Rio de Janeiro, Brazil, as part of her ongoing Eras Tour.
Swift posted a handwritten note to her Instagram Story on Friday, writing that the death of 23-year-old Ana Clara Benevides Machado, who event organizers Time for Fun said was feeling unwell at the concert venue and was attended to by first responders before being transferred to a nearby hospital, where she died, had "shattered" her heart.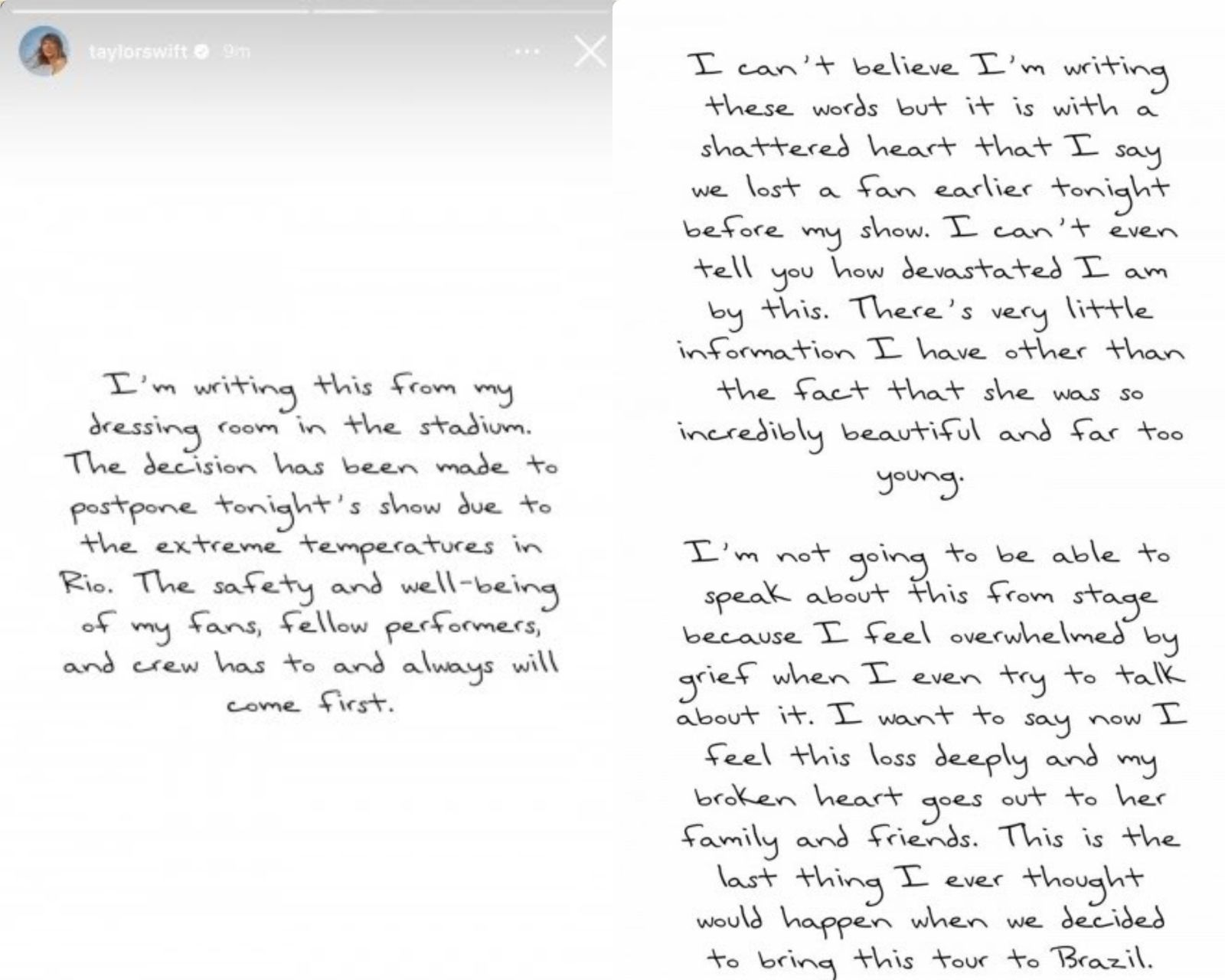 Swift performed the first of three gigs at Estadio Nilton Santos last night and said she wouldn't be able to speak about the fan's death at the following two shows: "I'm not going to be able to speak about this from the stage because I feel overwhelmed by grief when I even try to talk about it. I want to express how deeply I feel about this loss, and my heart goes out to her family and friends. This is the last thing I expected when we decided to bring the tour to Brazil."
ALSO READ: How did Travis Kelce meet Taylor Swift? NFL star reveals new details about romance