Rapper Travis Scott said he was "overly devastated" by the Astroworld festival tragedy in which 10 people died in a crowd surge.
Hundreds of others were injured at the concert in Houston, Texas in 2021.
In his first interview since the incident, Scott told GQ Magazine: "I always think about it.
"Those fans were like my family. You know, I love my fans to the utmost," he said.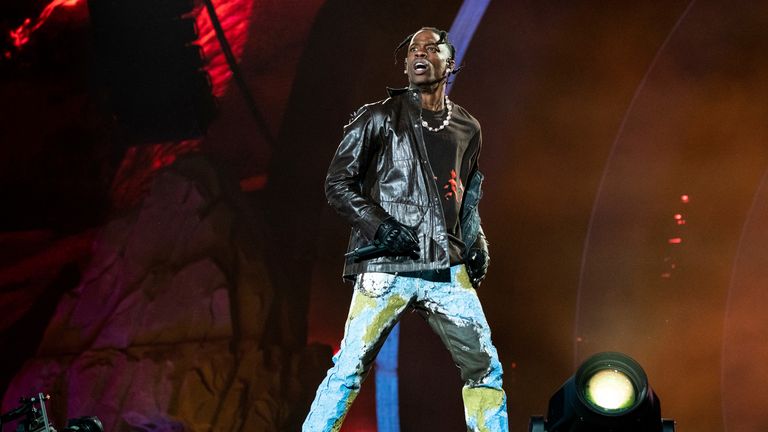 "It has its moments where it gets rough and… yeah. You just feel for those people. And their families."
The 10 victims, ranging in age from nine to 27, died by compressive asphyxiation as the crowd, which was over capacity, pressed towards the stage.
Scott and rapper Drake – who appeared on stage as a special guest – were widely criticised for continuing their performance while ambulances and concert-goers treated the injured and dying.
In June, a Texas grand jury declined to indict Scott on any criminal charges related to the concert.
A Houston police investigation found that festival organisers had warned of deadly consequences before the show.
The families of three of the victims have settled with Scott and the concert promoters.
The first wrongful death case is scheduled for trial in May 2024.
Read more:
How do crowd surges happen and why are they deadly?
Rapper says he didn't know fans were injured during Astroworld crush
Scott told GQ his recent track My Eyes includes a verse in which he references the Astroworld tragedy.
The lyrics are: "I replay them nights, and right by my side, all I see is a sea of people that ride wit' me. /If they just knew what Scotty would do to jump off the stage and save him a child."
"The song is emotional… and that verse means a lot to me," he told the magazine.
Click to subscribe to Backstage wherever you get your podcasts
Scott said he wanted people "to know I have pain too" when they heard the song.
"I have concerns, things that I think about, and the things I see on a day-to-day basis, I think about them. And every day I want to find change in the things, to make things better, make myself better.
"It's just like: I go through things like everyone else. And even recently through something like I never could imagine."