People battling chronic obesity are facing stigmatisation as they try to obtain the much-vaunted drug Ozempic amid shortages in Ireland and elsewhere, according to doctors.
The medication, a weekly injection initially designed to treat type 2 diabetes, has been touted by celebrities and social media influencers as a "miracle drug" for weight loss.
Ozempic, and its sister drug Wegovy, are brand names for the active ingredient semaglutide, which mimics a hormone released after eating, and induces a feeling of fullness.
Users eat less food, and lose weight. But the surge in demand, partially caused by celebrity endorsements and countless enthusiastic TikTok videos, has led to constricted supplies.
"Unfortunately stigma is not new in the area of obesity, most of my patients are used to it," says Dr Conor Woods, a consultant endocrinologist, who has prescribed Ozempic to "hundreds" of obesity patients.
He says that pharmacies are having to prioritise diabetes patients for access to the scant stocks of Ozempic. "I am getting feedback from obesity patients both struggling to access the drug, and feeling a little bit second-class citizen in the pharmacy trying to get reasons why they can't get the drug."
Sheila Swift knows that feeling all too well. The obesity patient from Tallaght in Dublin has shed six stone in weight since starting to take Ozempic in September 2022.
But as the fame of the drug increased, she has found it harder and harder to obtain. Sheila had to travel to Northern Ireland for her last batch, which she found in Newry. She currently has one more dose remaining, and is uncertain where, if at all, she'll get her next month's prescription.
"I don't know if I'm going to get it," Sheila tells Sky News. "I've one week left on the injection that I have and then that's it. I'm now on the hunt, driving around Ireland like somebody who's looking for illegal drugs to try and find a pharmacy who might be sympathetic, who might give me my next month's supply."
During her search for Ozempic last month, Sheila was at her fourth pharmacy when, she says, she overheard the pharmacist say to a colleague "we've none in stock, but it wouldn't matter, it's only for diabetes patients".
"She hadn't asked if I was diabetic," Sheila says. "She just looked at me, and said 'no you're overweight, so you're not getting this drug'."
Dr Woods says that Ozempic has "worked for the majority of my obesity patients", and Sheila says it's been a game-changer for her health.
"I feel amazing," she tells us. "I'm happier in myself. I'm physically able to do more, I can run up and down the stairs rather than taking one step at a time. Ailments I had with my knees have fallen away. I feel amazing."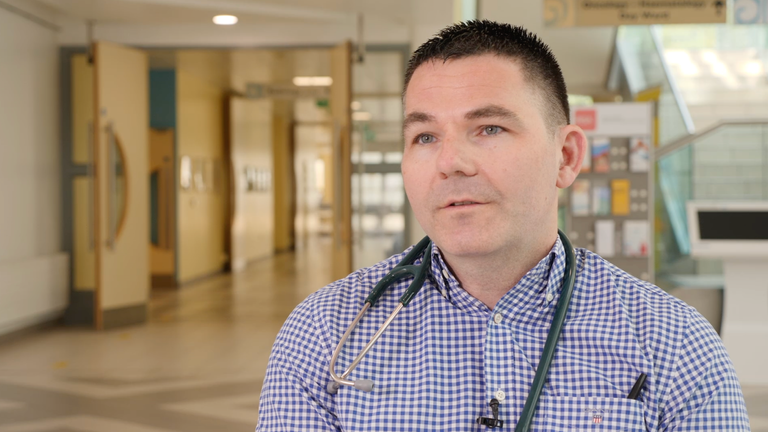 In some ways, the drug has been a victim of that success. There are hundreds of millions of views of videos posted under the #ozempic hashtag, and celebrities like Twitter boss Elon Musk have credited the medication with dramatic weight loss.
Former prime minister Boris Johnson has described taking Ozempic to stop his late-night "cheddar and chorizo" fridge raids. "So for weeks I jabbed my stomach, and for weeks it worked', he wrote in his Daily Mail column. "Effortlessly, I pushed aside the puddings and the second helpings. I must have been losing four or five pounds a week – maybe more."
Mr Johnson eventually stopped taking the drug due to side-effects (which can commonly include nausea, diarrhoea and vomiting), but that hasn't stopped the huge surge in demand for Ozempic.
Its manufacturer, Danish company Novo Nordisk, says that it expects shortages to continue for the rest of the year. "We are working hard to solve these challenges," the company said in a statement, adding that it has "significantly increased production capacity", with its factories running on a 24/7 basis.
It added that Ozempic is "licensed by the European Medicines Agency for the treatment of type 2 diabetes. Novo Nordisk does not promote or prompt any off label use of its products", which refers to its use as an anti-obesity medicine.
Pharmacists in Ireland say supplies are distributed on a monthly allocation basis. "Pharmacists have no idea," says Kathy Maher, who runs a pharmacy in Duleek, Co Meath. "It's almost like Christmas morning on the first of the month, when I see what comes in the deliveries from my wholesalers."
Read more:
From Ozempic to Wegovy, the weight loss injections taking TikTok by storm
Controversial diet drug takes over the internet despite health warnings
Wegovy weight loss jab to launch at UK pharmacies
Kathy says most days she'll receive phone calls from patients seeking Ozempic from up to 100km away. "They're prepared to travel. It's really challenging, really upsetting for people if they can't get the drug they need to treat their condition."
It can often be galling for diabetes and obesity patients struggling to access the medication to see influencers and celebrities bragging of its benefits.
Sheila says: "I've seen a lot of TikTokkers and Instagram people saying they're taking this drug. So I assumed they're just telling their weight-loss story, but I never realised there were as many celebrities taking it.
"When you look at the celebrities, who can have chefs at home cooking for them at home, who have personal trainers, they have more time, they have more finances available… they don't need to be on a drug like this. And it's not a fast drug, it's very slow going.
"I don't know why if you're not extremely overweight you'd put yourself through it."