A hat belonging to Napoleon Bonaparte has sold at auction in France for an estimate-busting €1.9m (£1.69m).
The garment was expected to go for up to €600,000 (£525,000) when it went under the hammer on Sunday.
Auction house Osenat said it was a "world record" amount for one of Napoleon's hats.
It was part of industrialist Jean-Louis Noisiez's collection of Napoleonic memorabilia, which also included a silver plate looted from his carriage after he was defeated at Waterloo, a wooden vanity case and a silver toothbrush.
However, it was the felt black hat that was the centrepiece of the collection.
While most officers wore their bicorne hats with the points facing forwards and backwards, Napoleon wore his with the tips in line with his shoulders.
The style – known as en bataille – made it easier for him to spot the military general in combat.
According to the auctioneers, the hat in question was recovered by Colonel Pierre Baillon, a quartermaster under Napoleon and one of his military comrades.
Read more:
Bottle of whisky smashes auction record
Boeing 787 plane lands in Antarctica in 'world first'
It was then passed through several hands before Mr Noisiez, who died in 2022 acquired it for his collection.
"For people who are into Napoleonic souvenirs, it's the holy grail to have a hat," said Jean-Pierre Osenat, head of the Osenat auction house.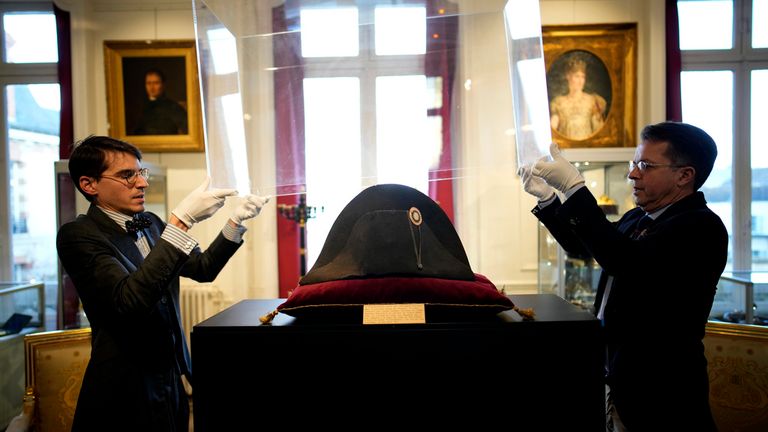 "There's about 20 left that are authentic and about 15 of them are kept in museums, so there's about four or five that are in collectors' hands."
The auction comes as Ridley Scott releases his cinematic Napoleon biopic, starring Joaquin Phoenix.