"I love its weirdness. It's consistently strange compared to other festivals – they bring the weirdness every time."
This was his 11th time at Glastonbury Festival, but for Matt Baker, from Devon, there is always something new to explore. First-timers Rob and Vanessa Burnham, from Brighton, echoed the sentiment: "It's uncensored fun at every turn. You never know what you'll stumble across and that's what makes it so different."
It is a feeling shared by tens of thousands of other fans who make the trip to Worthy Farm each year – while the headliners put on a spectacular show, it's the unexpected moments and weird and wonderful things you stumble across away from the main stages that really make this the best festival in the world.
Arctic Monkeys closed the first night, Guns 'n' Roses rocked on Saturday, and Sir Elton John provided the grand finale with what he has said will be his final UK tour show. Oh, and Dave Grohl popped up (almost) everywhere.
But away from those big names, here are the moments you might not have seen.
Celeb spotting
Glastonbury is known for attracting A-listers, from the big stars headlining the main stages to those simply enjoying the fun.
This year was no exception, with Sir Paul McCartney seen stage-side for the Foo Fighters' not-so-surprise set on the Friday night – and apparently also spotted having a wander near to the famous Glastonbury sign (sadly, we just missed him) on Saturday evening.
Oscar-winner Cate Blanchett brought some real star power on Friday as she joined US pop-rock duo Sparks for a performance of their track The Girl Is Crying In Her Latte, for which she features in the music video, while fellow actress Tilda Swinton (pictured above) performed with modern classical instrumentalist Max Richter.
Kate Hudson, Stormzy, Lily James, Billie Piper, Holly Willoughby, Princess Beatrice and more were also among the stars checking out acts including Aitch and Tom Grennan.
Rick Astley proves to be a Glastonbury fave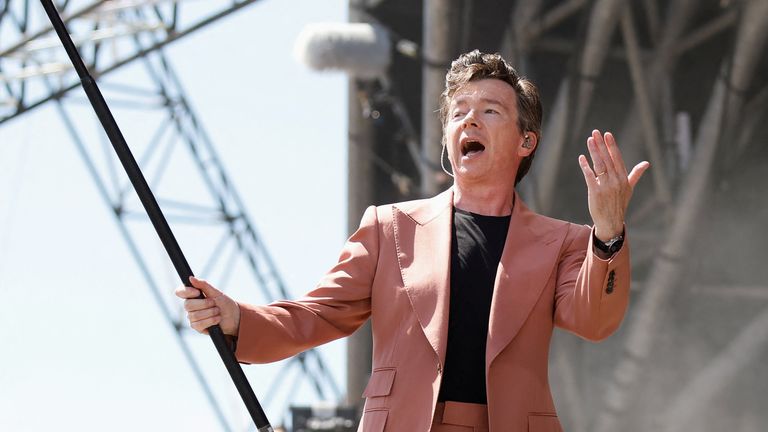 As many festival-goers are still sleeping off the night before, the daily opening slot on the Pyramid stage is usually a quieter affair for those who have made it out of their tents early.
Not so for Rick Astley, who drew an enormous crowd to the Pyramid Stage at midday on Saturday.
Astley, 57, proved that while Never Gonna Give You Up is undoubtedly a pop banger, he has many more strings to his bow, giving Glastonbury a set of cleverly selected tracks that included something for everyone – from a cover of Harry Styles' mega hit As It Was to showing off his drumming skills on AC/DC's Highway To Hell.
"One of my dreams has been to perform at Glastonbury – that dream has come true today," he told the crowd.
Later on, the star also performed a "surprise" set with Blossoms – hailed as a highlight by many watching coverage from home.
Glastonbury pays tribute to a Queen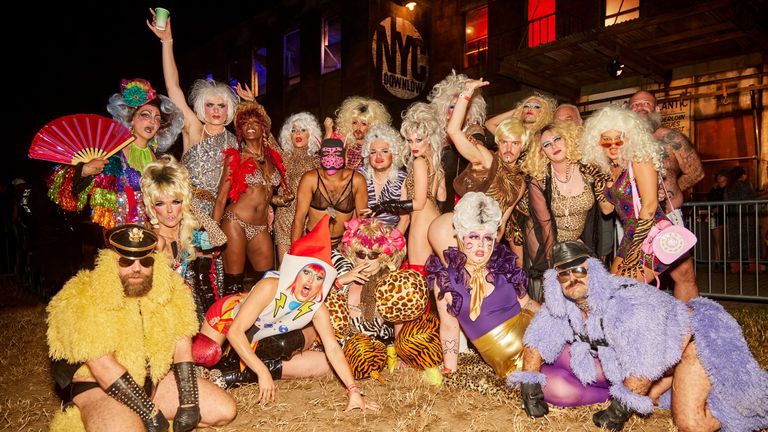 In what is known as the festival's "naughty corner" there are all sorts of clubs and secret hidey-holes to continue the party way after the main stages have closed.
At The NYC Downlow, in the Block9 area, the crew paid tribute to the late Paul O'Grady in spectacular style on Saturday night – think "Liverpool glam housewife on steroids".
And on Sunday, for those who might have wanted to avoid the main stage crowd for Sir Elton, there was a night of Rocket Glam, with excess as the brief.
Raving around the Greenpeace tree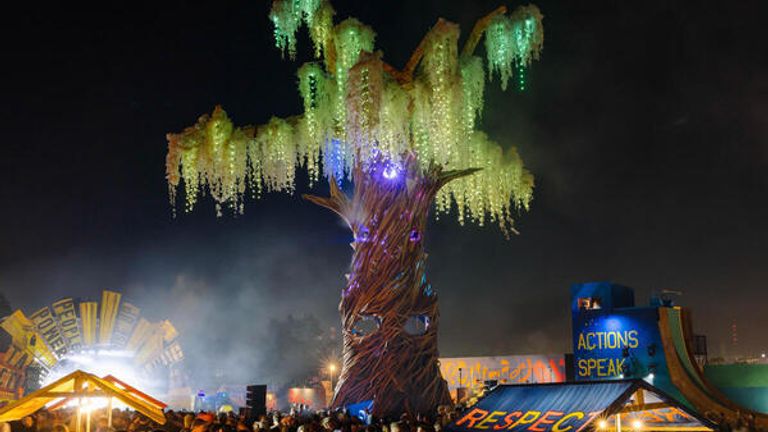 The rather magical rave tree, situated in Greenpeace's corner of the festival, has become one of the best places to party at Glastonbury over the past few years.
Last year saw sets from the likes of Spice Girl Mel C and Self Esteem, while this year Fatboy Slim surprised the crowd with an unexpected afternoon set on Sunday – complete with confetti and airhorns.
Earlier in the day, those looking to loosen up were treated to a session of power ballad yoga. And this wasn't the only event to help people keep up with their fitness…
Joe Wicks PE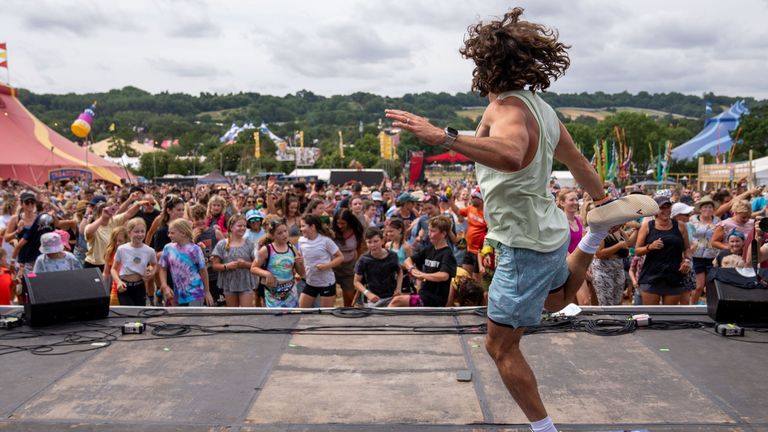 When you're living in a tent for the best part of a week, it's good to have a stretch, and early risers on the Friday were treated to some help in this department from none other than Joe Wicks.
The Body Coach took to the Gateway stage on Friday at midday to guide thousands in a warm-up and 25-minute workout, with eager exercisers sweating it out in everything from sequinned skirts to kilts and even Where's Wally costumes.
Runners were also invited to a 5km earlier in the festival to dust off the cobwebs.
The DJ giant spider and secret bars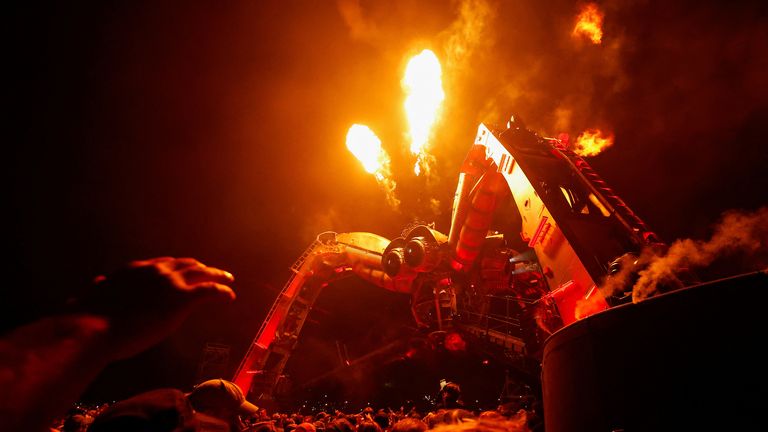 If you like your DJs playing from inside a giant, fire-breathing spider, you've come to the right place – Glastonbury's Arcadia corner provides just this.
This is one of the many incredible spectacles you might come across during your travels around site, with the flames visible from afar.
Other venues are a little more hidden – the Rabbit Hole's secret bar, for example, which involves Alice In Wonderland riddles and some crawling to find your way in, and the underground piano bar, which is said to move around the site. As far as secret sets go, this would have been the perfect location for Elton to pop up should he have felt in the mood for surprising fans after his headline slot. We called it here first.
Lana Del Rey's hair causes problems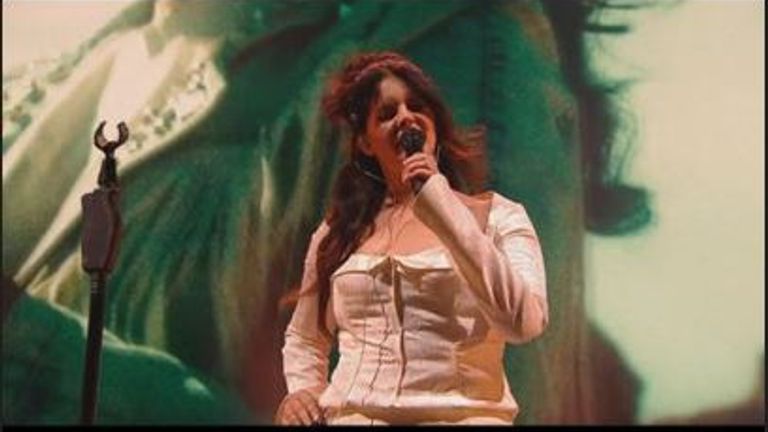 We've all been there. You're getting ready for a big night out but your hair just isn't playing ball, so you have to start all over again.
Unfortunately this is what happened to Lana Del Rey as she prepared for her night out on Saturday – a headline slot on Glastonbury's Other stage.
The star ended up being half an hour late. "I was so f****** late that I am about to rush this set," she told the crowd after making it to the stage. "If they cut power, they cut power. I'm super f****** sorry, my hair takes so long to do."
They did indeed cut the power – leading to an a capella performance of the star's final song Video Games, helped with a sing-along from the crowd.
The TURDIS and other escape rooms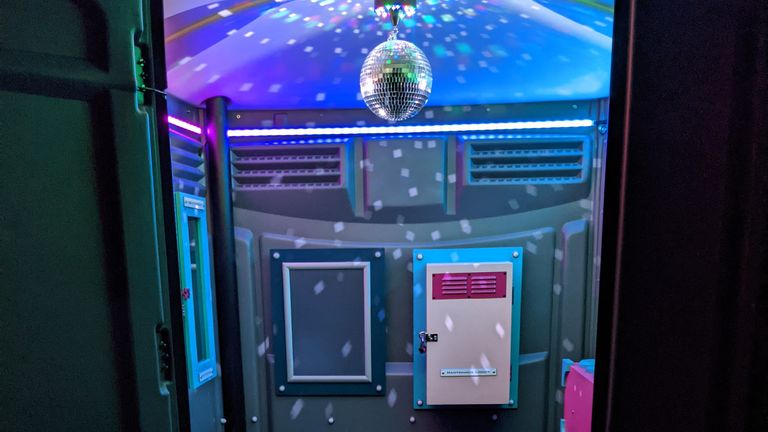 Working your way around the Glastonbury site and its different nooks and crannies can be a puzzle in itself, but for those who don't find it challenging enough there are escape rooms to put those skills to the test.
One of these is a solar-powered escape tent, while another is the TURDIS (Toilet Utilities Requiring Dexterity, Intelligence & Skill) – a disco Portaloo escape room.
Not a working Glastonbury Portaloo, it should be noted.
Find out your future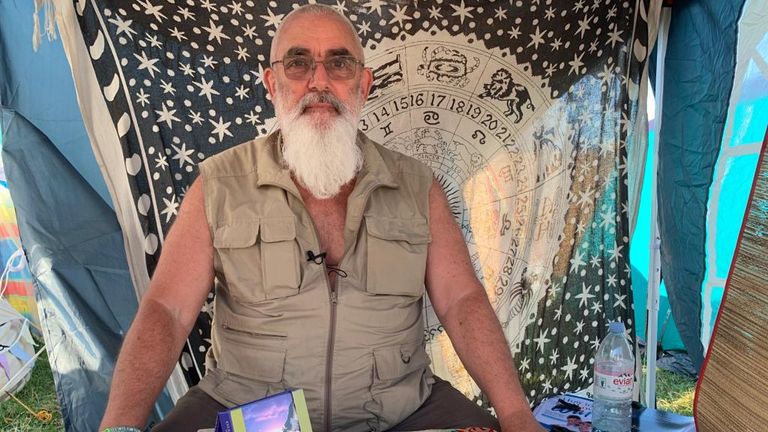 Step off Glastonbury's old railway track, one of the main thoroughfares of the festival, and you might come across the Healing Fields and Stone Circle – an area of tranquility away from the madness.
Here, you can get a massage, try some meditation, or learn what the future holds from tarot readers and life readers such as Timaeon, pictured above.
Near the Stone Circle, you might also find the Lost Horizon Nomadic Spa, which provides a space to relax and unwind – and where clothing is optional.
Anything goes at Glastonbury.
Grohl-stonbury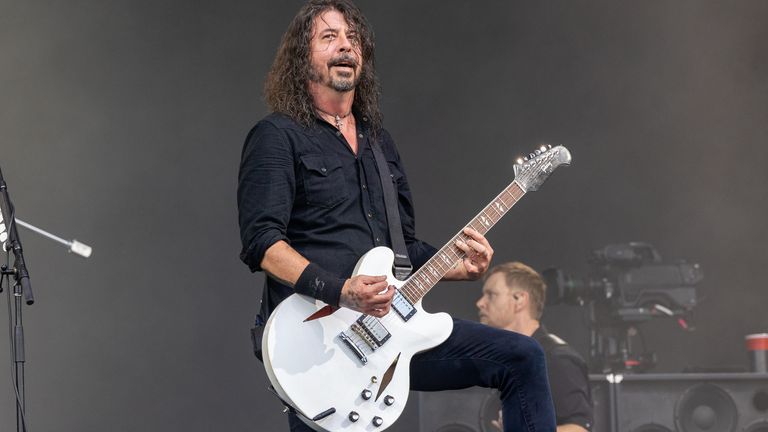 Okay, so this one made all the headlines, but we couldn't finish a Glastonbury moments piece without highlighting the work of Dave Grohl over the weekend.
First of all he played with the Foo Fighters – who turned out to be the "secret" Friday evening Pyramid stage act The ChurnUps – but hung around to join The Pretenders on The Park stage the following day, and then Guns'n'Roses for their headline set later that night.
Looks like Grohl could soon be taking Chris Martin's crown for impromptu Glastonbury pop-ups.