Comedian and author David Baddiel says there is a sense of "race deja vu" being experienced by British Jews as a result of the "febrile, angry nature" of reactions to the war between Israel and Hamas.
Speaking to Sky News about his new animated film, My Father's Secrets, premiering at the UK Jewish Film Festival, Baddiel said it saddened him that numerous people had asked him if the annual festival, aimed at reflecting the Jewish experience, was going to be cancelled.
"That's sort of awful, really, said in a sense of, you know, [how] it might be dangerous to host such a film festival at the moment," he said.
Based on a graphic novel by acclaimed cartoonist Michel Kichka, My Father's Secrets sees actors Elliott Gould, Miriam Margolyes and Tracy-Ann Oberman all lend their voices to the feature, with Baddiel narrating.
Set in 1960s Belgium, it is the story of two brothers in a Jewish family, who struggle to communicate with their silent and discreet father, Henri, a Holocaust survivor. Intergenerational trauma is a key theme.
"I thought it was a really sweet project, important and moving… Sometimes you get ideas of Holocaust survivors as slightly angelic. That's not real," said Baddiel.
"What's real is that it's traumatic and it leads to psychological damage. I saw that in my own mother, that's how it's passed on."
While the festival is now in its 27th year, the 2023 preparations have had to be different.
Taking place in the shadow of divisive debates about pro-Palestinian protests, you'd struggle to know it was even on with no signs or posters outside of London cinemas.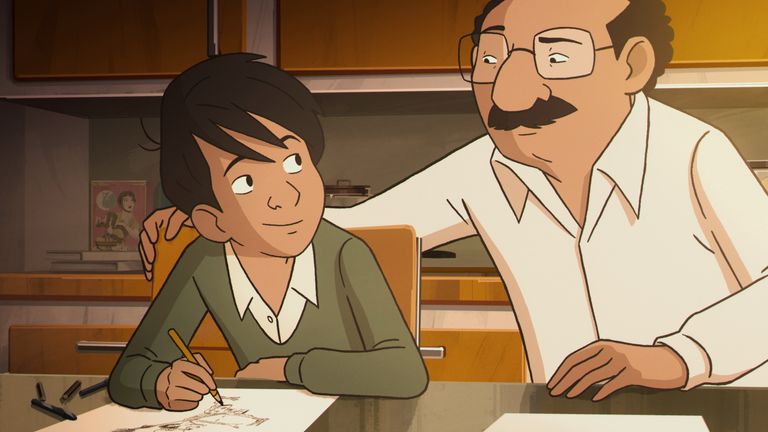 Baddiel is concerned about how the gap between perception and reality is becoming worse for British Jews.
"There's an assumption that Jews are powerful, privileged and oppressive. And actually, at the moment, there's a very strong feeling that Jews are anxious and living with a kind of dread, and there's a kind of race deja vu that comes with a constant sense of, you know, the febrile angry nature of what's going on out there."
Michael Etherton, chief executive of UK Jewish Film, told Sky News how, in recent weeks, security around their event has had to increase.
"Security is really tight this year. We are in regular contact with the police, but we are determined to go ahead," he said.
"We are a tiny ethnic minority in the UK, so we do feel vulnerable and isolated at this time… It's been a terrible few weeks and as a community we really need to come together and to be able to share our stories.
"We can't be forced behind closed doors by a situation which is many thousands of miles away… we won't become an invisible community."
Click to subscribe to Backstage wherever you get your podcasts
Responses to the Israel-Hamas war have exposed a schism within the arts world.
Dame Maureen Lipman and Tracy-Ann Oberman have both spoken about being assigned security for their respective TV and theatre work in recent weeks, in response to facing a barrage of hate and harassment.
Celebrity-signed letters calling for peace, though well-intentioned, have been criticised by some Jewish artists who say they're often one-sided.
More entertainment news:
Home And Away star dies aged 35
Robert de Niro's ex-assistant wins $1.2m lawsuit
"What I see all the time is very uncomplicated binaries, like a very uncomplicated idea of where good and evil lies on both sides," Baddiel explains.
"That's where it becomes very difficult, I think, it's not a conflict that can be described in letters. It should only really be described in quite long books."
The 27th UK Jewish Film Festival takes place in cinemas until 19 November and runs online from 20 to 27 November.
My Father's Secrets is on UK and Ireland digital platforms from Monday 27 November.