After months of touring, this is it – the final chance to see music legend Sir Elton John performing live in the UK.
The Rocketman is hanging up his hat (but hopefully not the big glasses) with his Farewell Yellow Brick Road tour. After some gigs were rescheduled during the pandemic, this now ends in Sweden in July – but the star's final show on home turf takes place at Glastonbury Festival tonight.
Sir Elton is one of the biggest-selling artists in the world – a performer with 32 studio albums under his belt, 10 number ones, and more than 300m in record sales – but surprisingly has never played at the world-famous festival before. His headline set closing the Pyramid stage will be his first and last chance to experience that 100,000-strong crowd, which so many performers who have experienced it before him describe as like no other.
In interviews, Sir Elton has said performing at Glastonbury "couldn't be a more perfect ending".
It's hard to imagine how the star who has entertained the world for more than 50 years will walk away from performing completely – but what a stage to bow out on.
So will this really be the end?
Tom Smith, NME's commissioning editor for music, says while there is lots of speculation the star may not be able to resist a comeback later down the line, it feels like this really could be his farewell from live performing.
"There's always been a kind of 'will he, won't he', but he seems pretty set that this is going to be the last UK show," he told Sky News. "I think the way that he's gone about it and prepared for the show and talked about all of the new bands he wants to celebrate in his career, you know, this long tour that he's been on, it feels like it could be it, it really does."
Sir Elton 'not chilling out' after farewell tour

However, Sir Elton's husband David Furnish told Sky News ahead of the festival that this won't be the end of his music altogether.
"I don't think he'll be sitting on the sofa with a remote control," Furnish said. "He's going to go back into the studio in October and start his next album. Which will be great. He's not done a studio album in a long time."
Read more:
Hair salons and beauty bars – how festival has gone from grime to glam
Stars get ready for first Glastonbury appearance
Arctic Monkeys to play Glastonbury after all
We know for Glastonbury, the star plans to bring out four special guests – Furnish confirmed it would be a star-studded line-up, but didn't give anything away.
Bookies are offering odds on everyone from Lady Gaga, Harry Styles and Rocketman star Taron Egerton, to recent collaborators Britney Spears, Ed Sheeran and Dua Lipa. Sir Paul McCartney, who headlined the festival last year and was spotted at the side of the stage for the Foo Fighters' surprise set on Friday, is also now a late addition to the speculation.
The acts that could join Sir Elton on stage
BRITNEY SPEARS – Last year, Sir Elton and Spears collaborated on the hit song Hold Me Closer which was the US singer's first return to music in six years. He said he wanted the track, which reached number three in the UK charts, to "enlighten everybody" that Spears, 41, is "one of the great pop stars of the world".
DUA LIPA – The chart-topping 27-year-old singer and Sir Elton released the chart-topping Cold Heart (Pnau Remix) together in August 2021. They performed the song at the end of his US final tour date at Dodger Stadium in Los Angeles in November last year.
BILLY JOEL – Sir Elton and American singer Joel, also a pianist, have played a series of tours titled Face To Face since 1994. Playing gigs, also in the 2000s and 2010s, the pair have built up a friendship together and Joel is also set to be in London in two weeks for BST Hyde Park on 7 July so might arrive in the UK early.
HARRY STYLES – The former One Direction star has expressed how he looks up to "showmen" such as Sir Elton, Prince, David Bowie, Elvis and Freddie Mercury. Sir Elton has also expressed he would like to work with the 29-year-old singer-songwriter, who is free from touring on Sunday after playing Festivalpark in Belgium on Saturday.
ED SHEERAN – Sir Elton mentored Sheeran's budding career and he was originally signed to the megastar's management company Rocket Music in 2011. They have collaborated together numerous times including on the festive song Merry Christmas, which became a chart-topper in December 2021. Sheeran, 32, is playing the FedEx Field in Maryland, US on Saturday and with an early flight could make Sir Elton's show the next day in time for 9pm to 11.05pm. He is not due to continue his American tour leg until 29 June.
OLLY ALEXANDER – The Years And Years frontman and Sir Elton stunned viewers at the Brit Awards 2021 with a striking rendition of Pet Shop Boys' It's A Sin. This version of the hit song was later released to raise money for the Elton John Aids Foundation. Years And Years also has a festival performance in the US on Saturday so getting back in time could also prove a challenge.
EMINEM – Sir Elton has spoken previously about his friendship with US rapper Eminem and he once interviewed him for a feature in Interview magazine. At the 2001 Grammy Awards, the pair performed Stan which had originally been released with Dido, and Sir Elton has since spoken frequently about how he "adores" the "amazing guy".
LADY GAGA – Sir Elton featured on Lady Gaga's sixth studio album, Chromatica, which was released in May 2020. She was also a co-host at his Oscar watch party and took on Sir Elton's catalogue as part of the album Revamp.
DOLLY PARTON – The US country veteran recently released a new album, titled Rockstar, which featured Sir Elton, Sting, Sir Paul McCartney and Sir Ringo Starr. At the Country Music Awards 2005, they sang The Beatles band member John Lennon's hit song Imagine.
KATE BUSH – The singer has recorded Sir Elton's hits such as Rocket Man and Candle In The Wind along with the duet Snowed In At Wheeler Street with the megastar. The 64-year-old, who does not tour often, also attended his wedding to Furnish.
TARON EGERTON – He starred as Sir Elton in the biopic Rocketman which was based on the musician's life. The 33-year-old also sang Tiny Dancer accompanied by Sir Elton at an Oscars party and recorded the song (I'm Gonna) Love Me Again for the film together.
Sir Elton has also teased that he will play a different set to that played on his farewell tour.
Whatever he sings, whoever he brings out on stage, one thing is certain – he will want to go out with a bang, and go down in the Glastonbury history books.
"You look at Paul McCartney last year – it was an incredible celebration of music for people of all ages, over his career, The Beatles to Wings and solo stuff," NME journalist Tom added. "Elton's got that level of repertoire and that goodwill among music fans. There's every chance in 10, 15 years it could be: 'I was there for Elton's big send-off'."
Click to subscribe to Backstage wherever you get your podcasts
Fellow Glastonbury first-timer Rick Astley – who drew a huge early crowd to the Pyramid stage on Saturday morning – believes few artists have had Sir Elton's impact.
"With Elton, you're naming one of the people who literally put one of the foundation blocks of music," he said. "There's a few people, men and women, who've laid down the rule book, the story book – everything – for the rest of us, and he's one of them. There's just no one comparable to him."
One fan who is looking forward to tonight's show is Alex McGuire, 47, who lives near to the festival site in Taunton.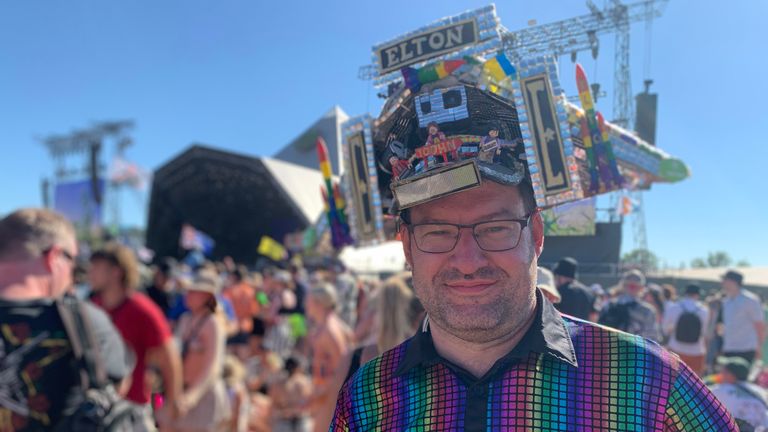 Now on his 16th time at the event, for the past five occasions he has been making hats to celebrate his favourite acts.
For Glastonbury 2023, he says the decision was easy.
"It's Elton's final tour and final chance to see him quite possibly. It's absolutely amazing for the Eavises to get him," he told Sky News.
Alex has recreated Sir Elton on the Pyramid stage, complete with a grand piano and rainbow rockets – and it even lights up.
"It's going to be a legendary moment," he said. "Like Paul McCartney last year – it's the ultimate for Glastonbury."
Sir Elton 'anxious' ahead of Glastonbury

In the run-up to the festival, Sir Elton has been teasing his performance – even sharing a picture of some spangly custom-made wellies on Instagram.
"It's just come at the right time," he said in one interview. "I'm a great believer in serendipity and fate – this is the most wonderful way to sign off in England."