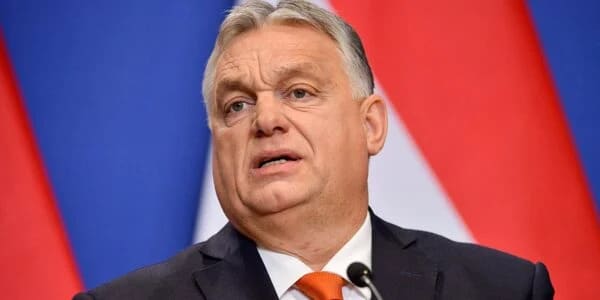 It could have been just good news or the start of diplomatic reconciliation between Kyiv and Budapest, shifting the accumulated distrust between the two capitals. After all, the release of 11 Ukrainian soldiers from Russian captivity is an exceptional event, and Ukraine appreciates countries that achieve such feats.
However, instead, it turned into a toxic story that further convinced both the Ukrainian government and Western leaders that Hungary is willing to play a role in Kremlin-directed spectacles.
It is worth emphasizing: the story is not over yet.
The Kremlin continues to reap the harvest from it, so why will it stop?
Indeed, Hungary's demonstrative disregard for Ukrainian requests for prisoners, its disregard for international law, and the information Ukraine has about how the Hungarians treated the Ukrainian soldiers handed over to them by Russia, all have the potential to undermine the few remaining bridges of dialogue between Kyiv and Budapest. And this is exactly what Russia is seeking (and has already partially achieved).
This is pushing Russia to continue the special operation — and there are already rumors that Orban has already received a new offer from Russia to "trade in Ukrainians."
Kyiv, on the other hand, is limited in its actions and has few other levers than statements, demands, and public insults against Hungary. After all, despite the unacceptability of the Hungarian government's actions, several Ukrainians left Russia, and this is very important. And some of the first group of prisoners were also returned from Hungary to Ukraine.
Meanwhile, this story has divided members of the Hungarian government. Although in a country where all the key decisions are made by one person, Viktor Orban, this is of the least importance.
Orban's 11 military captives
Exactly two weeks ago, the Russian Orthodox Church (ROC) announced that it had handed over a group of Ukrainian military captives, originating from Zakarpattia, to Hungary without the involvement of the Ukrainian state. This statement itself sounds absurd, which is why many were initially perplexed by the Church's announcement (what does the ROC have to do with it? Why should Ukrainians go to Hungary? How is this even possible?).
But even more absurd is the fact that to this day, the ROC's announcement remains the most substantial official comment from all parties involved in the transfer of Ukrainian military captives.
Ukraine, as it turned out, is not one of them. Ukraine's Foreign Ministry has repeatedly stated that Hungary did not even inform Kyiv of its actions against Ukrainian citizens, and publicly asked Budapest to change this policy.
But as time passed, no changes occurred, and Ukraine's statements became increasingly harsh.
It went so far that earlier this week Kyiv publicly accused the Hungarian authorities of holding Ukrainians hostage.
In that statement, the Foreign Ministry refrained from being specific, but it was later added to by Ombudsman Dmytro Lubinets, who said that Hungary was restricting the freedom of movement and contacts of Ukrainian prisoners and not allowing Ukrainian diplomats to visit them (the latter, by the way, has been said by numerous Ukrainian officials from the beginning).
What do these words mean?
According to the reports, the Hungarians did not just interfere with the meeting between the Ukrainian military and the Ukrainian consul, they were kept in isolation. In addition, Budapest has not yet officially informed Kyiv of the list of Ukrainians handed over to it by Russia two weeks after their announced arrival in Hungary.
And Kyiv has every reason to believe that Ukrainian soldiers were transferred from Russian captivity to Hungarian captivity.
Deputy Prime Minister Zsolt Semjén claimed that the 11 Ukrainians, upon their arrival in Budapest, became "free people," and the Hungarian government "no longer monitors their movements," but it is already known that these statements were absolute lies.
According to sources from Ukrainska Pravda (media outlet), the captured Ukrainian soldiers were kept in a designated facility, not even allowing them to have phones. And when they were organized to have a meeting with their relatives, the Ukrainians were brought to the meeting place and then forced to return to their place of detention.
What is this if not a captivity?
Of course, it wasn't a prison cell; of course, they were provided with reasonably acceptable living and recreational conditions, but deprivation of freedom remains the same. Even if the captives are not held at gunpoint, they are subjected to information isolation and psychological manipulation. And even if (as Budapest assures) their place of detention was formally allocated by the Hungarian Charity Service of the Order of Malta, rather than the government, it doesn't change anything.
Furthermore, it turned out that the Ukrainians were convinced that Ukraine had almost labeled them as traitors and that they should by no means return.
The logic of the Hungarian government's actions is incomprehensible. Media reports, citing Ukrainian sources, speculated that the captives were being influenced to hold a press conference with anti-Ukrainian statements, but at present, it seems more like fantasies.
The majority of the captives transferred to Hungary, as it turned out, are not ethnic Hungarians (at least according to self-identification) — even if some of them possess Hungarian passports (which is a common practice in Zakarpattia). They also do not have a sufficient command of the Hungarian language to hold a press conference where Orban's government could report to the public about "saving" their own from Russian captivity.
The actions of the Hungarian government seem even more absurd after initially allowing three Ukrainian captives, and then another one, to travel to the Ukrainian embassy and subsequently leave Hungarian territory.
Lies not only for Ukraine
Essentially, there was only one public announcement from the Hungarian side about the arrival of Ukrainian captives: Deputy Prime Minister Zsolt Semjén briefly mentioned it on June 9, the day after the ROC's statement.
Afterwards, the Hungarian government resorted to total silence.
It remains unknown, in particular, how exactly the Ukrainians ended up in Budapest. Hungary does not share a border with Russia, but there are several options — including overland routes through Serbia and chartered flights facilitated by other countries.
It is interesting to know whether the Hungarians informed this transit state about how they used its "services".
---
See also: The Ministry of Truth of Orban. How do anti-Ukrainian and anti-European propaganda work in Hungary?
---
What is even more remarkable is that this topic has turned out to be taboo for Hungarian propaganda.
In particular, pro-government media outlets "do not notice" it, which is a crucial indicator for Hungary, where the government has established almost total control over the media field.
More importantly, Viktor Orban did not comment on this topic.
Even a week after the public start of the story, in his traditional Friday interview on Kossuth radio on June 16, Viktor Orban ignored this topic, which was already gaining momentum and leading to international reactions.
However, it is impossible to remain silent forever when hints of essentially "hostage-taking" are voiced not only from Ukraine. And when the European Union has already twice stated that it expects explanations regarding Hungary's role in the story of the prisoners of war.
So this week, Hungarian top officials were forced to break their silence, but they did so in a strange manner, as if contradicting each other. International spokesperson for the Orban government, Zoltan Kovacs, remarked that the Ukrainian prisoners of war allegedly wanted to come to Hungary from captivity themselves. And Peter Szijjarto, prior to that, emphasized in the PACE that Hungary was not involved in the transportation of Ukrainian captives from Russia, stating that it all happened through the church channel.
However, this directly contradicts the statement of his government colleague, Semjén, who declared two weeks ago that the transfer took place "at the request of the Hungarian side"!
Even more importantly, these recent statements from Hungarian government officials contradict logic.
They are not just untrue, but senseless.
For example, how could the prisoners of war without passports cross the Schengen border and end up on Hungarian territory? And how did the Orban government know all the details about them from the beginning?
However, the public dispute among representatives of the Orban government has its explanation. According to information from several independent sources of EuroPravda within the Hungarian government, the Minister of Foreign Affairs, Peter Szijjarto, was indeed not involved in this transfer of prisoners of war. It is rumored that he was not even informed, which led Szijjarto to create a scandal within the government.
Not against the release, but…
Ukraine finds itself "in a bind" in this story.
First and foremost, it is important to emphasize that different sources provide different information about what was happening before June 8. Some claim that
And the way Budapest acted after receiving Ukrainian prisoners is only condemned by Ukrainian officials and informed persons with whom the authors of these lines spoke.
However, under all circumstances, the release of Ukrainians from Russian captivity is a good event that is hard to be outraged about.
Moreover, this is likely not the last time it will happen.
The Ukrainian side already knows that the dialogue between the special services of Hungary and Russia, aimed at whitewashing the image of the Russian Orthodox Church, is disguised as the so-called "inter-church dialogue" and is ongoing. There is consideration of the possibility of transferring new Ukrainian prisoners of war associated with Zakarpattia to Hungary.
And once again, without the involvement of Ukraine.
Ukraine is currently weighing its options on how to deal with this situation. The idea of filing an interstate lawsuit against Hungary at the European Court of Human Rights (accusing Hungary of unlawfully depriving Ukrainians of their freedom) has been raised, but no such appeals have been submitted to Strasbourg at the moment, and it is uncertain whether they will be submitted.
Why does the Kremlin need this?
While Ukraine and Hungary contemplate their course of action and assess the magnitude of their image problems in this situation, for Russia, this story appears to be exclusively advantageous.
Perhaps the main achievement for the Kremlin is the artificially provoked Ukrainian-Hungarian confrontation ahead of the summit in Vilnius in July and the highly probable December vote in the European Parliament regarding the opening of negotiations with Ukraine on accession. In both cases, all key decisions will be made unanimously, and thus, Hungary's vote is also needed.
Meanwhile, the actions of the Russian Federation and its friends in Budapest leave no room for Ukraine to remain silent. It was impossible to leave the Hungarian treatment of Ukrainian prisoners without a reaction.
So a new conflict is being created, a new tension in an already difficult relationship.
And given the fact that lately almost every statement made by Viktor Orban or Peter Szijjarto mentioning Ukraine has led to a diplomatic conflict, Moscow could be sure that the scandal would be a big deal, as it actually was.
It also became a great opportunity for a campaign to whitewash the image of the Russian Orthodox Church.
Let's be frank: everyone involved, including Orban, understands well that these "agents of the Federal Security Service in cassocks" played no role in the liberation. It was the work of politicians and real intelligence agencies, not a "victory of church mercy."
However, Russia has seized a great opportunity to create a myth that the Russian Church, which contributed to the hostility with Ukraine and then systematically fueled the conflict, is now the "peacekeeper" supposedly freeing Ukrainian prisoners of war.
There is little doubt that if Budapest and Moscow reach an agreement on the transfer of a new group of captives, it will once again be presented as the "merit of the Russian Orthodox Church."
Also, for Russia, the story of the Ukrainian prisoners is a pretext to try to artificially provoke an escalation in or around Zakarpattia.
It seems that there were intentions to oppose the "Hungarians in the Ukrainian Armed Forces" to the rest of the Ukrainian prisoners of war, but they were unsuccessful. The return to Ukraine of four prisoners from Budapest was decisive here: it turned out that they are considered heroes in Ukraine, and no one is planning to punish them, as they were convinced during their stay in Hungarian "captivity."
Finally, by singling out the Transcarpathian captives from the rest of the Ukrainian soldiers, Russia seeks to perpetuate the myth of the "Hungarian Transcarpathia" and Hungary's claims to this region, which is one of the key narratives of Russian propaganda regarding Ukrainian-Hungarian relations. Research indicates that the Kremlin began actively promoting this narrative, preparing for a full-scale invasion since September 2021.
Simultaneously, Moscow is already attempting and will continue to provoke the Hungarian leadership into an anti-Ukrainian campaign under the guise of rhetoric about peace and the protection of Hungarians and Transcarpathians. This seamlessly complements Russia's hybrid actions in Ukraine.
In short, this story is not over yet.
It will not be easy to get out of it without significant losses.
Especially in situations where some representatives of the Hungarian government, including Viktor Orban, either do not realize that Russia is using them or are well aware of this, but continue to play the game written in the Kremlin.
Originally posted by Serhiy Sydorenko and Dmytro Tuzhanskyy on European Pravda. Translated and edited by the UaPosition – Ukrainian news and analytics website
---
See also: Orban's 11 hostages: how Russian Orthodox Church and Russian authorities "trade" Ukrainians with the Hungarian government
---